Los Angeles based Industrial Metal band DAWN OF ASHES has revealed the hotly anticipated, intensely graphic official music video for their single, "EMDR." Fully NSFW, featuring unsettling imagery as analogies for the wholly encompassing and often contradictory experiences of severe trauma sufferers, "EMDR" is not for the feint of heart, but serves as a uniquely explicit insight into a mind struggling to achieve balance and recognition beyond suffering. Originally premiered with METALSUCKS, "EMDR" is the first single off of the band's recently released and heavily praised new LP, Scars of the Broken, which is available to purchase (physical and digital) and stream online via ARTOFFACT RECORDS.
"The story behind the music video 'EMDR' is about a trauma victim who experiences EMDR therapy. She slips into a nightmare and is being tormented in sexual and disturbing ways by a trauma spirit. In the end she becomes possessed by the spirit and ends up becoming what she fears the most." – KRISTOF BATHORY
"Dawn of Ashes keep bucking expectations as they go, never settling into one niche but instead straddling them all, and making some of them feel very uncomfortable about being straddled…It fits well with the band's lack of overly-traditional sounds and images; combining what one loves about dark extreme metal with contemporary topics in a disturbing way." – METALSUCKS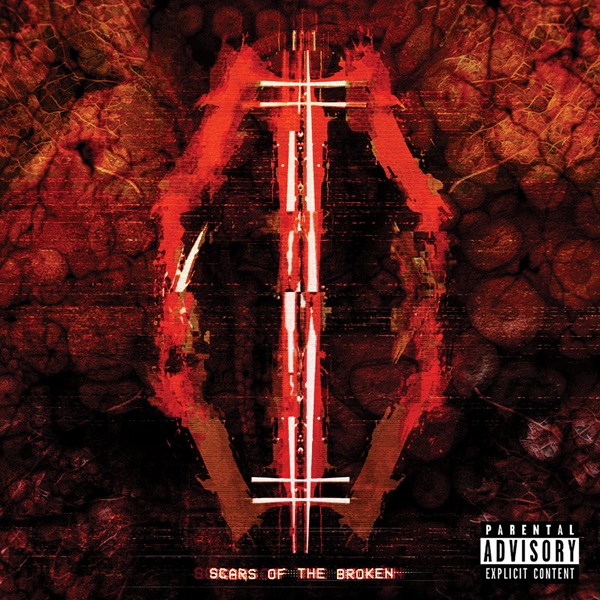 Track List:
1. (Descending) Torn Inside
2. Love is Asphyxiation
3. The Despondent Hole
4. EMDR
5. Bane of Your Existence
6. (Limbo) Numb
7. It Comes in Waves
8. Heart Beats Cold
9. Turn It Shallow
10. Scars of the Broken
11. The Antidote
12. (Ascending) Catharsis
Purchase / Stream Scars of the Broken Online:
BandCamp | Apple Music | Spotify | Deezer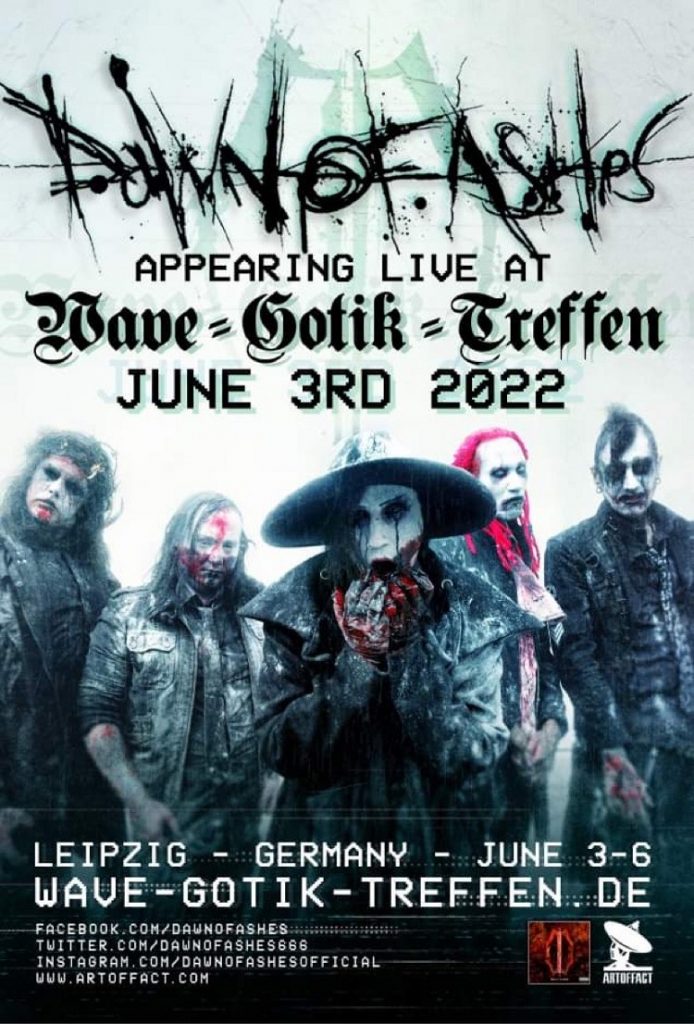 DAWN OF ASHES will be hitting the road for the SCARS OF THE BROKEN TOUR with support from MIDNIGHT NIGHTMARE, beginning July 17th at Bar Sinister in Las Angeles and winding throughout the United States, wrapping up August 6th at El Corazon in Seattle, WA (additional dates to be announced.) The tour will be preceded by a performance at The Wave-Gotik-Treffen (Wave Gothic Meeting) in Leipzig, Germany on June 3rd, 2022.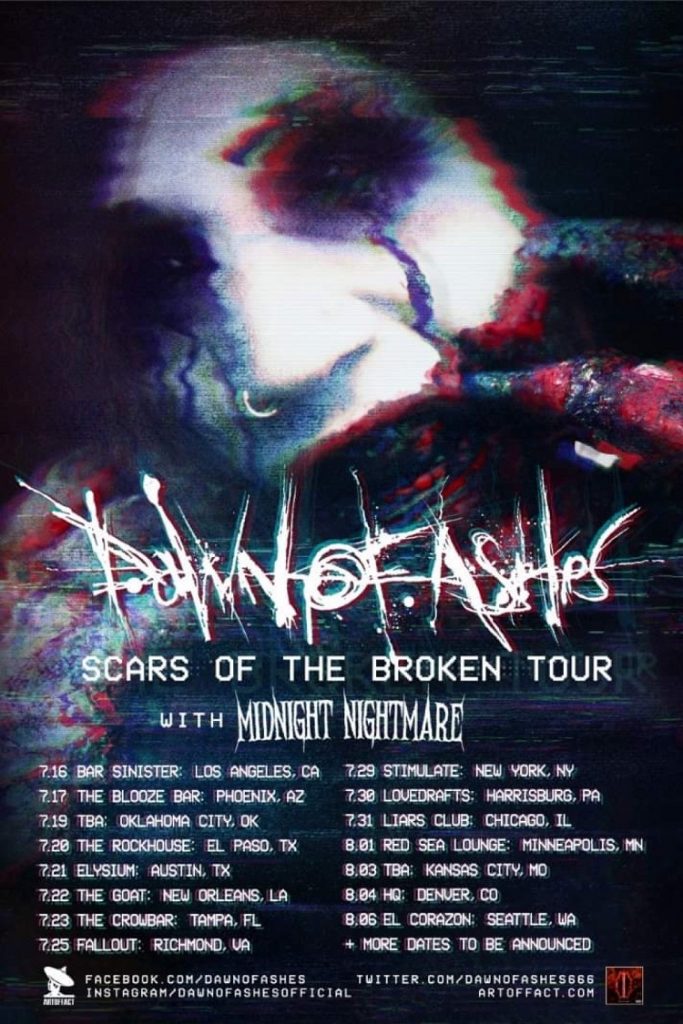 Tour Dates:
07/16 @ Bar Sinister – Los Angeles, CA
07/17 @ The Blooze Bar – Phoenix, AZ
07/19 @ TBA – Oklahoma City, OK
07/20 @ The Rockhouse – El Paso, TX
07/21 @ Elysium – Austin, TX
07/22 @ The Goat – New Orleans, LA
07/23 @ The Crowbar – Tampa, FL
07/25 @ Fallout – Richmond, VA
07/29 @ Stimulate – New York, NY
07/30 @ Lovedrafts – Harrisburg, PA
07/31 @ Liars Club – Chicago, IL
08/01 @ Red Sea Lounge – Minneapolis, MN
08/03 @ TBA – Kansas City, MO
08/04 @ HQ – Denver, CO
08/06 @ El Corazon – Seattle, WA.
Additional Dates TBA
Click HERE for VIP Packages & Additional Touring / Ticketing Information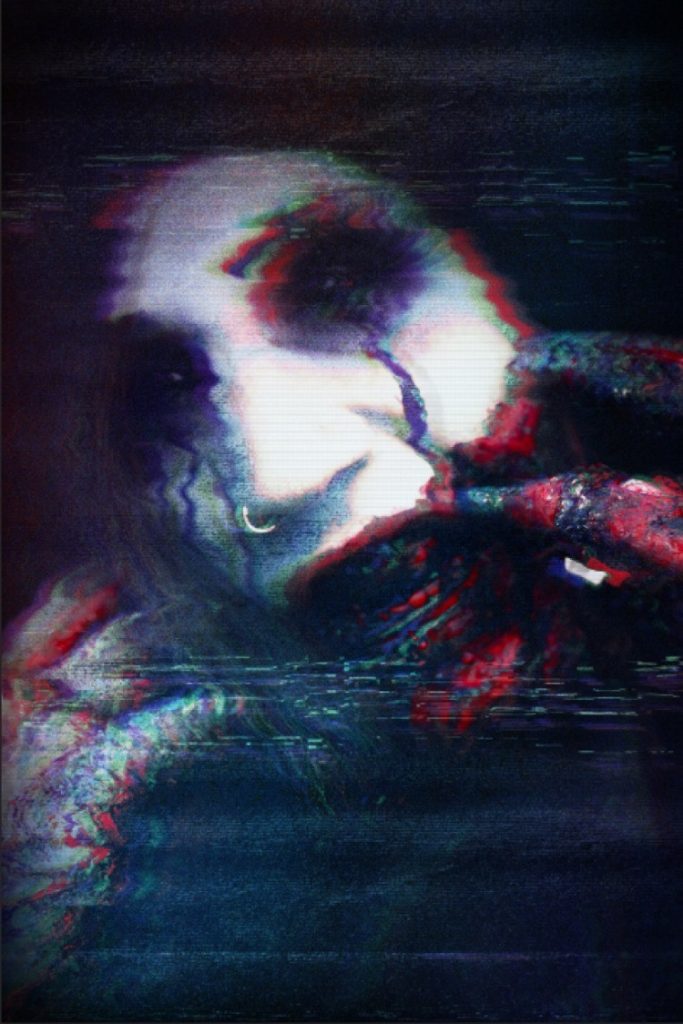 Los Angeles, CA-based DAWN OF ASHES – whose very name brings to mind "the beginning of the end" – has broken ground across multiple genres, from aggrotech/terror EBM to industrial black metal, producing a unique hybrid of dark electro and industrial-metal styles since 2001.
Connect with DAWN OF ASHES:
Official
Facebook | Twitter | Instagram
Connect with KRISTOF BATHORY:
Official
Facebook | Twitter | Twitch
Connect with ARTOFFACT RECORDS:
Official
Facebook | Twitter | Instagram